The Artist and The Shift of Technology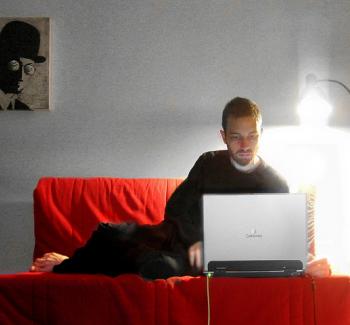 This is a guest post by Jim Woods, Nashville blogger and musician. This is part of a week-long series on Art, Science, and Technology. Read the second post here, and the third post here.
Today there are more opportunities for artists than there have for any other generation. Technology has leveled the entire playing field; No longer do you have to ask for any type of permission from others to do your work. Twenty years ago, there was no way for the average George the salesman to share his art with millions, or even billions, of people for free.
A portion of this spectrum shift began when Open Diary, an online diary website, was created in 1998. Open Diary became a platform for thousands of bloggers, with over 10,000 members within the first 6 months. Now in 2012, approximately thirteen years later, over 156 million blogs are in existence.
Writers can now publish content at any place and at any time. Ideas and information are shared worldwide at within seconds. Newspapers have become obsolete; by the time you receive a newspaper, the news has completely changed. Stories have developed further and events have changed. The search for the robbery suspect is already in a jail cell.
Many new opportunities for musicians exist due to technology as well. Justin Bieber was found by a talent manager on Youtube by accident. Now Bieber has sold over 5 million records and has is one of the biggest stars in music today.
Mainstream computer applications like Garageband have made it so musicians are able to record, produce and distribute their own music. You can even create an entire record without knowing how to even play an instrument with the prerecorded musical instruments loops.
I believe we are really at the early stages of what artists can do with technology. It is impossible to say what things will be like in 10 years. One thing is for certain; it is going to be a very fun ride and many artists will do very well in years to come.